A True Story – Trophy Hunting a Blot on Our Game
May 15, 11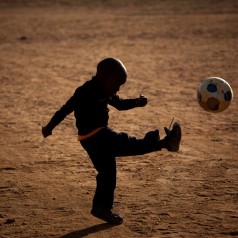 As an ex-Pro player and now a Coach, I was invited to to a local Amateur Football club to present the trophies at their gala evening.The players ranged in age from 8 to almost 40 years. I was ushered to twin tables covered by white sheets with many trophies underneath.
Trophies Cash
The chairman told me proudly that the club had spent almost £2,000 on the trophies! I began giving the various trophies to the players noticing that a few of the players were coming up repeatedly. As I went to give the last and biggest trophy of the evening to a young player who was walking up to receive it , I asked the Chairman standing beside me,"what it was for" and was told it was for "the Individual player who wins the most trophies on the night"!
It nearly fell out of my hands as I presented this young kid with his FIFTH trophy of the night, There and then, I promised myself that I would never do this again.
What a waste!
What are we teaching our kids? Wouldnt that large amount of money be better spent on more Footballs, training equipment, new kit, the hire of a Sports hall during the winter or towards the services of a couple of good Coaches? I am not altogether against awarding trophies however wouldnt it be so much better if we gave just a few to deserving kids at the end of the season such as… "The most Improved player of the year" or "The hardest working player of the year" or "The team player of the year who never lets others down",etc, Too many great kids are bypassed in favour of the more talented (but sometimes more selfish) kids when in fact ALL of them are important.
Some people at Clubs and Coaches are well-meaning thinking that giving more trophies than other Clubs will motivate their kids to play and train harder and win more games. Nothing could be further from the truth! There is a wealth of research from Sports Psychologists to prove this fact however many "thinking" Coaches with experience have discovered it for themselves a long time ago. Instead of just playing the game for the sheer joy, exhiliration and fun of it, they are being taught to lose their intrinsic love for the game to seek worthless trophies instead – what a shame!
Article By my good Friend – Malcolm Cook
Facebook comments:
comments
404