BALANCE IS BETTER
Feb 13, 21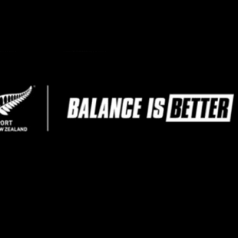 It's Time To Change Our Approach To Youth Sport BALANCE IS BETTER @iCoachKidsWorld PUTTING THE NEEDS OF THE PARTICIPANT AT THE CENTRE OF EVERYTHING WE DO!
Sport NZ @SportNZ @iCoachKidsEU
Sport NZ has developed the Balance is Better philosophy to inform and provide a framework that puts the needs of the participant first. It originated from the Sport NZ Talent Plan 2016-2020 that focused on growing the capability of the sporting system to better prepare athletes in their development phase to help them realise their potential. Balance is Better has now become a broader conversation underpinning Sport NZ's overall approach to youth sport that focusses on maximising participation and skill development.
Listen here
END –
We always like to hear your opinions and views. If you feel you have something to say or content to share, please comment below or email me coach@thecoachdiary.com
If, you don't have anything to add then please forward this on to a friend. As always, thanks for reading. I'm also on twitter @Coachdiary and @LetTheKidPlay
Facebook comments:
comments
404