Vicente Preaches a pro Ethos by Sarah O'Donovan
Jan 25, 13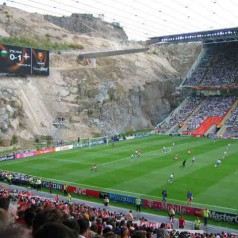 Portuguese football coach and Youth Academy Director of Sporting Club Braga, Hugo Vicente is in Ireland this week doing coaching clinics, he was brought to Ireland by David Berber of DB Sports Tours. I'll be helping Hugo out tomorrow night at our Club, where he will be taking the u12's for what will be a memorable session.
Sarah O'Donovan spoke to  him about player development and his philosophies on the game, which can be transferred to any sport..
IN every sport, developing solid foundations for  future success is a key aim. Funding and a long-term commitment are crucial elements of this, but SC Braga coach Hugo Vicente  believes a programme for development is the cornerstone of any good plan. Vicente was recruited from Portuguese club Benfica and installed at SC Braga for that specific purpose.
"Qualifying for the Europa League final against FC Porto in Dublin was a sign of the progress being made within the club, but the youth structures weren't showing the same level of improvement as the senior structures."The first part of the puzzle was looking at the demands placed on the players at each age group."In Portugal every age group from U10 upwards plays in an official competition and because we were the best club in the region, despite the lack of organisation, we had the best players."We were easily beating other teams but nothing was happening to improve the level of the players. There was no need to work more efficiently or challenge themselves. It was too easy for them."We re-organised it by having them compete in the higher age groups to redress the balance".
His Vision
Vicente admits that coming in to an organisation and presenting your vision can meet hostility. "There was a programme in place prior to my arrival with simple guidelines and targets for each group but that wasn't being followed. "The coaching was random and according to the coach that was assigned, so my job spec was to put in place a full-use programme that would look at the player as a whole entity from U8 up to U14.
From U15 we hold official national competitions, so all preparation is geared towards presenting players at that competition.
"As is the norm in France, Spain and Portugal the players who come through the ranks to U15 level are then part of the professional programme. "There was naturally resistance, people don't sit well with change. "
I had presented the project to the academy director and he was happy to move forward with it, and most importantly agreed with it, but there were others in the club who felt their ideas were more important than the club ideas. "You ask any coach if they want to coach Chelsea or Barcelona and they will say yes, but what they don't realise is that 60% of the work is done much earlier in the career of the players.
"What coaches can add instead is quality when providing the session in terms of correct feedback and watching things properly. It's not about coming up with an amazing drill", You, as a coach, can never be more important than the programme of the club, especially at youth level."
"I mean everyone in the club knew that change was required and I suppose the resistance was more related to the ideology of the change rather than actual change. "You end up having to say 'Look this is the direction we will take'. Obviously this will not suit everyone and the intention is not to hurt egos."
Vicente pinpoints identifying a style of play for the club as one of the main aspects of the implementation structure. "To best explain the importance of implementing such a rigid system, say I'm the coach of a particular age group and I like technical players, fast players, but the next coach might prefer working with big, strong, physical players. "He could decide to replace the players that I was developing with players that have a more physical dimension — resulting in my work and those technically good players disappearing into the mist."
The challenge
"Implementing a core philosophy was the first challenge. And the second challenge was improving the scouting facility available to us in the region to gather the players that we felt would benefit from our preferred style of coaching." "Another challenge was facilities; believe it or not when I came here first we had the use of one sand pitch, one time per week because it is common in Portugal still to have half of the amateur teams in the country playing on a sand pitch.
"I go to the UK and they say other countries are so much more developed, but in truth in Portugal astro-turf pitches and grass pitches aren't the norm!"
Vicente admits that while the theory is well documented, he feels the most important job after implementation is control. "You can buy books. You can read all the literature if you wish. "You will always find people willing to agree, but when you see them working, when it was put in to practice, it was just talking, it was never done.
"For example I find sessions in Ireland are very drill-orientated or focused on shadow plays, because they want their players to know how to play the game. "I want my players to know how to play the game but I want them to learn and live in situations in order to be able to understand them, which I have found translates in to progress in competitive situations much faster.
"We say openly that we want to focus on winning and people pretend to be shocked, but they misconstrue what we mean by winning. It's not winning at all costs. "We want to win as a consequence of the way we work. We want our players to try to solve the problem. If they solve the problem better than the others they will win. It's as simple as that. "Winning here in the youth projects should be about putting players in a position to reach the top."
The Irish System
Vicente is concerned with a number of aspects of the Irish system currently. "I feel there is a lack of contact time with the ball, especially in terms of the youth. The quality of that contact time is also questionable. I think people still work without questioning the goal of the exercise.
"They say 'but we have always done it this way' and what they fail to understand is that we are coaching or preparing our kids for what will come in 10 years." "Nobody understands, nobody can say accurately what the game can be in 10 years, but we can look at history and see how the game has evolved and predict where it might go with a programme to facilitate that expectation. "I think people still work the same way as when they were coached as players and this is one of the great mistakes.
In Ireland it may also be considered a problem to be near to one of the biggest football competitions in the world in the Premier League, but that can be a good thing.
"Some of the best players might be poached early but you must remember they will be playing and working with the best, so that will improve them as players and benefit the national team in the long term. "The key issue is the lack of professional organisation that the clubs have in Ireland and what I mean by that is under your amateur reality, that you should be working in a professional way."
"You say you want to develop your players technically but you go to the game and because you want to win you always ask your goalkeeper to kick the ball long, far away from your goal. "You don't allow the players a chance to take on an opponent. This is a common mistake from coaches and they totally go against what they said was a top priority without even noticing. "You must think about your daily actions and the result that has on the youth development of a player."
CLINIC DETAILS
 HUGO VICENTE has been running a series of clinics in Ireland all this week and over the weekend.
The clinic will involve a three-hour workshop broken down into two sections: theoretical and practical. Irish coaches will first be presented with a lecture detailing the make-up of the Portuguese club's youth structure, goals, methods and specific details in the day-to-day running.
Report by Sarah O'Donovan – Evening Echo CORK.
Facebook comments:
comments
404