Albert moves to Dubai
Mar 02, 11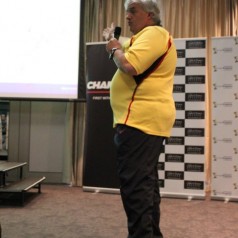 The very last FCB coaching clinic Albert Benaiges did was The Champion FCB at Carton House in February.
Benaiges leaves for Dubai
Albert Benaiges, technical director of the FCB Escola, has accepted an offer to join Al Wasl Football Club in Dubai from July.
Benaiges will work as technical director of the Dubai based club's youth system, overseeing the structure of its coaching programmes. Founded in 1960, Al Wasl FC plays in the United Arab Emirates League at the Zabeel Stadium.
Future agreement
FC Barcelona has given its full support to Albert Benaiges on this new venture, and wishes to publicly thank him for the dedication he has always shown to the club. Benaiges will be returning to FC Barcelona when his time at Al Wasl Football comes to an end.
Grateful to the club
The current technical director of the FCB Escola has thanked FC Barcelona for accepting his decision. Benaiges says he hopes to "transfer La Masia's philosophy and the way we work here" to his new club, and knows that "Barça's success has been fundamental in making them interested in me … This is a very interesting sporting challenge at a club that has some excellent facilities".
Almost 20 years with Barça
Albert Benaiges has been at FC Barcelona since for 19 years, having arrived in 1990 and worked here over two stages, and has always worked in youth football. In recognition of this, Benaiges was one of the club's representatives at the Ballon d'Or ceremony in Zurich.
The Coach Diary would like to wish Albert all the best in his new position.
Facebook comments:
comments
404