DB Sports Tours Champions Cup 2012
Jan 03, 13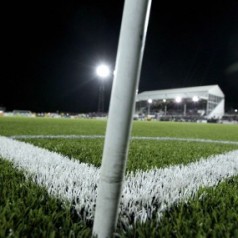 Really looking forward to the DB Sports Tours Champions Cup this Saturday. I was at it last year when two teams contested a final at u15s age group. This year they have increased it to 5 age groups. I don't believe there has ever been a competition pitting the best of the South with the best of the North; this will be a truly great day for Irish Youth Soccer.
The Article below is courtesy of the Irish Daily Star.
DB SPORTS TOURS CHAMPIONS CUP 2012: BIGGER AND BETTER
IRELAND'S top schoolboy teams will kick-off the New Year in style when they take on their northern counterparts in an expanded DB Sports Tours Champions Cup schedule next month.
Five SFAI national cup winners, ranging from Under-12 to U16s, will each face the Northern Ireland Boys Football Association's Champions in their respective age groups on an action-packed day on January 5.
Dundalk's Oriel Park will host the newly-expanded competition, which was began with a two-legged single contest last last year.
Following an exciting clash at Tolka Park in December 2011, NIBFA top dogs St Oliver Plunketts saw off Shelbourne at Seaview in January to take the innaugeral title at U-15 level.
As tournament organizers DB Sports Tours decided to expand the competition across the age groups for the second year and fans are set to benefit with five fantastic games in a row on the first Saturday in January.
"We recently signed a three-year sponsorship deal with the NIBFA, so cross-border clashes between the south and north's best look like becoming a regular occurrence".
Reigning U-11 (left) and U-13 SFAI champions St Kevin's Boys are committed to a club trip across the water to English Premier League side West Bromwich Albion so Crumlin United and Cherry Orchard take their places respectively.
Crumlin's excellent U-12s fill in for Kevin's against Glentoran FC in the day's opening encounter, before St Francis face Plunketts in the U-13 clash.
Francis won last year's DB Sports Tours Manchester Easter Cup – beating hosts Manchester City in the final.
The Orchard's U-14s narrowly missed out on U-13 DDSL Premier Division success last season and will hope to make up for it against Plunketts.
The U-15 contest is a highly-anticipated one, with Templeogue United's league and national champions facing Crusaders FC, before Plunketts have a third team involved on the day against Malahide United in the U-16 final.
CHAMPIONS CUP SCHEDULE – JANUARY 5, ORIEL PARK
U12′s (2001′s) Crumlin United v Glentoran FC, 11:00AM KO – 20 mins e/w
U13′s (2000′s) ST.Francis FC v ST.Oliver Plunketts 12:00 – 25 mins e/w
U14′s (1999′s) Cherry Orchard v ST.Oliver Plunketts 1:00 – 25 mins e/w
U15′s (1998′s) Templeogue Utd v Crusaders FC – 2:00 – 30 mins e/w
U16′s (1997′s) Malahide Utd v ST.Oliver Plunketts 3:00 – 30 mins e/w
*Text courtesy of the Irish Daily Star's Target supplement*
Facebook comments:
comments
404