Enjoy the football this weekend KIDS!
Aug 26, 11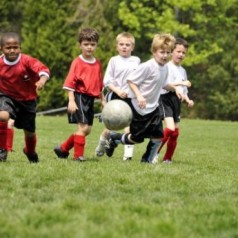 Firstly best of luck to all the kids (kids means anyone u18s) playing this weekend. I hope they all get to play and enjoy this recreational sport!
Could you imagine an under 8s/9s/10s etc game on a Saturday where we just let the kids play and didn't shout at them every time a player touched the ball. Why do we get so caught up in a kids game, where the only thing at stake is a few points! Only 1 team can win the league….so why put some much pressure on these young kids and expect them to play like the pro's
How many games, did you win….who cares!
I mean, do you actually remember how many games you won as a kid?, I certainly dont and I can assure you that all kids playing on a Saturday and Sunday don't either, in fact they forget soon after the final whistle  and sometimes quicker, all depends on how long their parent goes on about how "they should have done this or that".
Its time we just "let the kids play", its time to stop all this competitive football at under age, its wrong and all its doing is giving the parents and coaches satisfaction, its not good for the game, its certainly not good for players development.
Lets change this now, for once lets follow structures that actually work and will benefit the Kids & the game in the long run. In work in Europe and in South America they produce vast about of technically gifted kids by allowing the kids to think for themselves whilst providing age appropriate coaching in a safe environment.
Can our kids not be competitive?
Non Competitive doesn't mean the kids can't be competitive, they always will and that will never change. Its means coaches and parents have nothing to play for, no league, no points; which means the kids can play and enjoy the game without being shouting at every-time they touch the ball! Parents and coaches can sit back and enjoy the game because that's all it is….and a kids game at that!
In the meantime whilst we push for Non Competitive at certain ages, age appropriate games, goals and balls…try and sit back and enjoy the experience of watching your child play. So when you start you pitch side prowling and barking this weekend, think about how this is effecting the kids in a negative way! It's best to say nothing and don't allow a certain few to control the line. The only voices that should be heard are the kids.
"you don't shout over your kids teacher at school, so why shout over your child football coach"
Facebook comments:
comments
404