FAI Appoint another Dutch man as New high performance director.
Apr 07, 13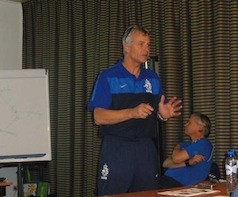 It seems like the FAI have finally got someone who might take an interest in the grassroots structure, I suppose the 4v4 game ties into this man's appointment. Let's see what changes come August 1st, certainly looks positive.
Following the exit of Wim Koevermans last year, the FAI has announced another Dutchman in the role of High Performance Director. Highly-respected Dutch coach, Ruud Dokter, has been appointed FAI High Performance Director, it was announced on Friday.
Dokter has a vast amount of international experience and, after what the Football Association of Ireland described as an "extensive worldwide recruitment process", the 57-year-old will take up his position on August 1.
Who is he?
After a playing career with SC Makkinga, GRC Groningen and VV Helpman, Dokter became part-time coach of Groningen's youth teams before becoming part of the KNVB's coaching set-up where he has filled a variety of senior positions at men's under-21, U18, U17, U16 and U15 levels as well as the senior women's team.
Dokter will oversee the Irish non-senior international men's programme, the women's senior and underage international programme, coach education and player development. This will include the Emerging Talent Programme as well as the Academy in Abbotstown where the first phase is currently being developed.
Speaking about his appointment, Dokter said:
"My first priority will be to cultivate relationships with those people who invest so much time in nurturing young Irish talent, provide a good sense of direction and influencing everyone to work together. "Ireland has a fine footballing tradition and I want to build on that, using my experience to optimise the development of the coming generation of elite players."
John Delaney, FAI chief executive, said: "Ruud will be working closely with all of the affiliates involved in Irish football with an emphasis on coaching and the development of our elite player pathway."
See also FAI website
By Goal.com
Facebook comments:
comments
404