Footblogball "The Kids are Alright"
Jan 30, 11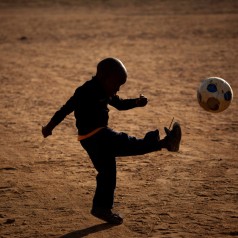 Footblogball was setup by Mark O'Sullivan an Irish man leaving in Sweden for over 16 years and originally from Cork.
Mark played League of Ireland when he was 18. Mark says.  "It was depressing but it convinced me that there is an unbelievable amount of raw talent that just needed some guidance, I am still convinced of that today"
Mark who lives in Sweden is also been campaigning for change here in Sweden.They have elite systems for 9 year olds with theory classes!!!! Developing  great systems but few great players when you consider the amount of time and money invested in it.
He is head of  Stockholms largest city youth project and works with a lot of kids on a daily basis. He has been coaching with these ideals for a few years . Mark says, "he is working with all ages from 7 to senior. Also trying to encourage young teens who have dropped out of football(many very talented but stressed out by the adult football demands put on them since kids) to come back and just play for the love of it" With some of his friends they are trying to bring back the spirit of "Street Football" to young kids, its called KAFA.. www.funfootball.se
Keep up the great work Mark, the club and this vision of making kids football a better place is growing by the day
Check Out footblogball.wordpress.com
Facebook comments:
comments
404