Futebol para Criancas – Jose Mourinho
Mar 08, 12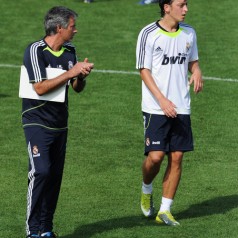 A good friend of mine in Portugal, sent me this link. Fascinating insight into the mind of Jose Mourinho. I had the pleasure to meet him once, the man is an inspiration.
Football for Kids by José Mourinho
is one of the most complete and inspirational tools available for kids and teenagers around the world who aspire to be footballers.
It also show how coaching kids is not just about winning that we as coaches have an obligation to teach this young boys and girls the way of life. Every child will not be a professional footballer but every child will mostly likely grow up and eventually get a job of some sort; become a professional in something.
We can teach kids from an early age to cooperate, to communicate, to make eye contact, to say thank you, to shake hands, to support and help each other and most of all to learn how to respect each other.
Football gives children so much, but we as coaches that can help mold children in the right direction. For me personally, football coaching is all about educating the child not just in football but in LIFE!
Click on the link below
http://www.videoelephant.com/items/2117/Football-for-Kids-by-Jos%C3%A9-M
Facebook comments:
comments
404