Futsal: Saints & Scholars
Dec 22, 14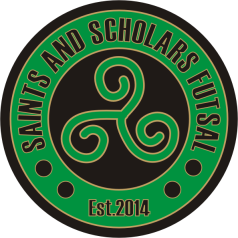 Saints and Scholars Futsal Club was established in March 2014, due to the need for a Futsal team in South Dublin.
Main Objective: Create a strong Futsal team and to further promote the Futsal game in South Dublin and all over Ireland.
The team is under the guidance of Martin Perciavalle with the assistance of Sebastian Perciavalle. Involved since 2009 in Irish Futsal, Martin as a coach and Sebastian, first as a player and now a days, a successful GK Futsal coach.
They have recently helped Ireland to qualify for the European Deaf Futsal Cup, held in Bulgaria, November 2014.
"In our academy players will get a minimum of 1000 touches per training session".
They are looking to be the leaders in the development of well-rounded Futsal players. They are currently looking for players from u12s upwards.
Kids will have an opportunity to feed into the representative teams of Football in Dublin and/or their own Senior futsal team (currently playing the Emerald Futsal League in it's rookie year).
Saints & Scholars values:
Education
Sportsmanship
Hard Work
Dedication
Integrity
Professionalism
I spoke recently to head coach Martin Perciavalle, "In our academy players will get a minimum of 1000 touches per training session, resulting in players improving techniques such as dribbling, passing and close control at an accelerated rate……..Also players will be more accurate with their passing as opposed to just kicking the ball wildly off a wall as what happens in astro. The good thing is, there is no Futsal League for these age groups, therefore, we can really focus on developing players, having fun and enjoining the game".
Details:
Ages: U12, u14 & u16s feed into the senior team
Location: Benildus College, Kilmacud Road Upper
Saints & Scholars: Academy Flyer-Big
You can take a look at Irish National League 'Emerald Futsal League" 
If any other clubs want to promote their academies please get in touch. Promoting Futsal and getting the youngsters playing at a young age, will have huge benefits in the future. Let's continue to promote this wonderful game.
End
I always like to hear your opinions. Please comment below or email me info@thecoachdiary.com, if you don't have anything to add then please forward this on to a friend.
Thanks for reading. I'm also on twitter @Coachdiary
Facebook comments:
comments
404