How to Develop Speed with Mike Antoniades – BOOK NOW
Jul 26, 13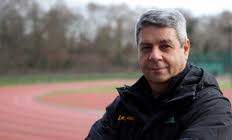 SPEED WORKSHOP
NOTE: DATE NOW CONFIRMED – SATURDAY 7 DECEMBER 2013
CALL 087 218 3837 For Further Info
How to develop Speed & Acceleration
Without doubt, one of the greatest concerns among today's athletes and coaches in all sports is how to improve Speed and Power. The workshop will focus on developing Speed and Acceleration for multi-directional sports, covering the theory, coaching methodology and practical demonstrations.  This 1 day workshop is for both coaches and athletes who want to learn how to develop and coach Speed.
No matter what your starting point you can always get faster!
Speed and quickness are skills that can be taught and not just something you were born with. By using a number of specialised acceleration training techniques and football specific conditioning protocols, which stimulate both the muscular and the nervous system, athletes can improve their speed, agility, acceleration and power. These techniques have been used with academy and professional football teams in the UK and Europe with great success in injury prevention and multidirectional speed development.           
Did you know?

65% of footballers over the age of 13 are slower turning on one side than the other, by up to 0.65 of a second.

Many footballers can improve their speed and quickness just by correcting their running biomechanics.

Reactive Speed can be improved by up to 30% with the correct training in just four weeks.

If youngsters don't acquire the basic movement skills by the age of 12 then they will very rarely make professional footballers
Speed Workshop Agenda
1 Day course
1. Theory Presentation 
Biomechanics of multidirectional sport

How to develop Speed & Acceleration
Long term athlete development
When & How to train?
The Importance of functional movement
Case Studies
Question & Answer session
2. Practical session –
Running Bionechancis

Dynamic Movement Skills
Quickness
Turning Ability
Acceleration & Deceleration
3. Q&A

4. BREAK

5. Practical session 
Explosiveness

Speed Development
Strength & Power
6. Question & Answer Session – Finish at 5.30pm 
Details:
When: Saturday 7th December
Time: Start 12.30 – Finish 5.30pm
Cost: €25
Location: NDSL Academy – Oscar Traynor Coaching & Development Centre
Oscar Traynor Road – Coolock D17
Email: info@thecoachdiary.com
Mobile: 087 218 3837
Facebook comments:
comments
404