Kildare Soccer School
Mar 17, 11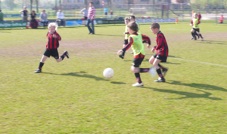 Kildare Soccer School
Mike O'Toole is the coach behind this new Academy in Kildare and I spoke to him recently and asked him;
What is the Kildare Soccer? Kildare Soccer School is an academy that aims to encourage better coaching and football education for young players. Kids can join our academy or join our club after the summer if they are not currently playing with a club.This is not a business but a community idea and anyone who does not have the money will not be excluded. It is not about training elite players but any kid that loves to play soccer. I also want to meet coaches and share our ideas and want to find young coaches that want to get involved in coaching football
Why did you set it up? Its came out of a desire to get my ideas together and the fact that people want you to have a site to check the details of where your academy is and stuff. Its a static site not a campaign as such. I wanted to get back involved with coaching kids but I wasn't what club I would join. Out of respect for the players I did not want to get involved with a new team and then have to leave so I was careful not to jump on board with another club!
A  friend who's u14s I coached recently asked me to get involved with them. I met the chairman and they only have a senior team and u14s team, so this will effectively be their academy if it works out.I wanted to leave it open so kids from other teams could come , because in the summer I move to the fantastic facilities at Clongowes for training.
Who is it aimed at? Its aimed at kids who are just starting out or just want a new start, kids who want to be listened to and kids who want equal playing time. I have a diploma in life coaching as well as in interest in football so maybe I could help some coaches who want to  rethink their own coaching philosophy or ideas about coaching.
Can any coach get involved with it? I really hope to get some young coaches involved. I had some young lads 16+ helping out when I last ran a summer camp. This is important to educate young lads who want to be involved in proper coaching and gives them a role a well. This is an important issue to bring in younger coaches.
When is the next training session and where and how can kids join? Training is on Sundays at RedLane Sports, its 10 mins from Naas and Newbridge. From €3 euros per session,there are some free places available as well. Time: 1030am to 1130am.  see the venue at http://www.redlanesports.com
Are you recruiting at the moment? No , I really don't see this as a business at all. I will put up a few posters but we will fill it easily with word of mouth and then see where to take it.
We all know how much time and effort we coaches put into coaching our own team, how will you make the time for this also and your business too? This is an issue for everyone associated with teams. At the moment I will do only one morning a week. This was another reason not to jump in and take a club team, but also because I didn't want to buy into some of the approaches and ideas that some clubs have in how they see football in this country.We need a new playing style and new approach to coaching and that can get lost in a bigger club.
To get in contact with Mike log onto http://www.kildaresoccerschool.com for more information.
The Coach Diary would like to wish Mike the very best with his new Academy
Facebook comments:
comments
404