Leading The Way…
May 31, 11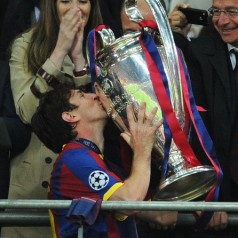 The Catalans
We were all amazed from last Saturdays game and they way Barcelona completely outclassed a team that is custom to outclassing so many. I think now we can say that Barcelona is currently the worlds best footballing side and for me the best footballing side I have ever seen. No team on the planet can pass the ball the way they do, it really is so beautiful to watch. Some of the movement and inter-passing on Saturday night, I'd never seen before.
Guardiola put things right
After the antics of some of Barca's players in the recent Madrid game I was very disappointed with all the bad press Barca was getting. Having  watched practically every single game that was shown on SKY TV, I don't remember seeing play acting quite like the Madrid game.
Saturday's game put that at rest, from the beauty how they passed the ball, to how they conducted themselves on the pitch, to Messi sinsulating trickery,  to the guard of honour for the United players and fittingly the beautiful gesture from Puyol wrapping his yellow captains armband around the left arm of Abidal and was he who lifted the European Cup aloft. Remarkably only 10 weeks ago Abidal was fearing for his life, when he underwent surgery to remove a tumor from his liver, a perfect finish to end an exhilarating evening.
There were no refereeing controversies, the game's flow assisted by the judicious officiating of Viktor Kassai. There was no hounding of the officials either. This was the day when dignity returned to football.
Back to the Game
Ferguson said after the game that "Barcelona deserved it, they enjoy their football and play the right way".
For a those few hours on Saturday night I was so proud to be a lover of this great game, finally we had a spectacle without the diving, the cheating, the imaginary card waving and surrounding the ref at every given opportunity. This match could be somewhat a bench mark for the future. But with the shambles that is FIFA at the moment and all the corruption allegations with evidence of emails containing the words bribe etc
Football or Soccer could still do with a cleanup and we could take on some of the sporting gestures that Rugby has, certainly the guard honour is something they could insist on and could be brought it as quick as you can write it down on paper. Another is to mic the referees and feed it live to out TV's, this will stamp out the abuse, the foul language constantly directed at the officials.
The statistics from the Wembley clash showed that United completed just 301 passes, while Messi, Xavi and Andres Iniesta beat that between them as the Catalans achieved 63 percent possession and over 350 passes between them.
Sporty City
Last year I was lucky enough and one of very few who have had the pleasure of visiting FCB Sport City. The Ciutat Esportiva (FC Barcelona Academy) Joan Gamper. Is about 15 minutes and just 4.5 km away from the Camp Nou and is directly connected by the road between Barcelona and Sant Joan Despí. Covering 136.839m2 it is used by all Youth Teams for training and matches, as well as Barca Ladies, Barca B and Guardiola's magic men . There is also the multi sports arena for Basketball, Handball and Futsal.
La Masia
The Masia Director Carles Folguera said: "next year we'll be taking this photo at the new Masia in the Ciutat Esportiva Oriol Tort Training Centre, and to be honest, we're all looking forward to that moment".
He added that "the desire to find out what the new home will be like helps overcome the sadness of having to leave such an emblematic building … The change will be good for everyone, as we gain modernity, comfort and space and we hope we won't have to miss the warmth of the current Masia". At the start of the 2011/12 season, all of the residents' activities will be centred on the new Masia in the Ciutat Esportiva. This is a truly amazing facility and fits in well with a club of such Sporting history.
Article about La Masia https://www.thecoachdiary.com/?p=2301
You can play like Barca…
So why are we so fascinated by Barcelona, why does every single kid want to be a Messi, a Xavi or Iniesta?
Why does every single coach want his team playing like Barcelona and can we really get our players to play this way even without a Messi?
Well, you can certainly try; every player must have a ball, you must allow your players freedom on the ball,  and you will probably have to correct every single pass your players make in training in order for them to understand the discipline of passing the ball in the correct manner, with the right amount of pace, accuracy and distance (remember a Barca pass is not more then 10-15 yards) and movement, every single players is moving, dropping into space and creating that line between the passer and the receiver, 7 of out 10 passes go back to where is came from and back again, whilst the passer moves into space again and so on and so on. It's as easy a that…I wish it was…
Last year
When I visited the Academy last year (glad to be going back in the coming weeks), we watched an u6s train, the keeper rolled out to his left right full, who in turn played it into the centre mid, he then passed to the right mid. A triangle of passes from 6 year old….wow…fast forward 10 years and u have under 16s, these were playing on the far pitch and the same passes, the same movement, the accuracy like I have never witnessed before…fast forward 3 years and some of these kids will be playing in the first team. Doing the exact same things they were taught as 6 year olds. So there is no mystery to the way they play, they are just playing the same way they did as kids.
"Tell me and I'll forget; show me and I may remember; involve me and I'll understand."
What can we learn from this?
Of course we can and fittingly in the same week that the NDSL announced they would be restructuring their league system and paved the way for coaching and player development to be the focus of the under age game, it is at this age that in Barcelona they play total football. Something Barcelona have been doing since the Cruyff years and Guardiola insisted on bringing back the quick passing total football philosophy with discipline when is joined the coaching staff back in 2007.
Its one way that works
The Barcelona way is not the only way of course, but it certainly is a one way of playing the game and they do it with great beauty. In fact I believe the Iberian way is the way forward. Firstly they have a completely different mentality to us, they a different way with kids; they welcome kids with open arms, but their kids also have a respect for elders and their coaches. In Portugal, Spain and Catalunia the coach is well respected, the kids are taught to respect and listen to their coach but the coach is also educated on his coaching and knows exactly how to develop the player, we must not forget COACH EDUCATION, its vital. They have a different way of interacting with the kids (we saw that when FCBs Albert Benaiges came to Ireland in February).
"So there is no mystery to the way they play, they are just playing the same way they did as kids"
Kids need discipline
We have lost alot of our authority and the young kids are growing up to fast, kids need to be kids for longer and we see so much of kids not respecting older people, this can be a huge factor in how we train and educate our players.
With the correct tools and the right focus, educating our players about life skills not just expecting that they show up for training but also making sure they are decent human beings. Teaching them to listen and not talk when the coach talks, teaching them to shake hands properly (not a whippy hand shake), teaching them to make eye contact and making sure they stay in school to learn. Teaching them about discipline and fair play, sportsmanship and becoming a leader and a team player, teaching them respect their team-mates, referees, the opposition, making them take responsibility for there training gear and match day uniform.
Be the difference
Football development is just as important, after all this is the game were in; however we must not get tunnel vision and forget some of the qualities and attributes our players will need in life, the social kills to succeed. We spend alot of time with these kids and we have the opportunity to make a difference to their lives and attitude, but to be the change YOU must have all of the above yourself or at least strive to be a good person and a better teacher, you can never stop learning  and passing on information.
Actions speak louder than words, when it comes to kids. Most of the times we teach kids through our body language and unconscious actions as compared to sitting them down and telling them consciously. Kids learn naturally by observation and imitation and hence it becomes important for us, as parents and coaches to set a good example and walk the talk or at least only talk about that which we can walk too!
Parents also need to be educated about discipline and conduct particularly on match day but they must not interfere with the coaches sessions or shout over the coaches on match day. If they are not happy with the coach or have any issues concerning their child then, they must address this immediately. (See bottom of the page)
Which feeds the main Academy has two Objectives which are centred on two basic ideas: teaching the basic concepts of football and transmitting the values that represent FCBarcelona, such as tolerance, respect, solidarity, companionship, citizenship, integration.
The school acts as a feeder system for the Academy and if Barcelona see potential in a player who may not be good enough for the academy, instead of letting him go they will get him to spend some time learning at the Escola and try and develop him the Barca way, the great thing about the Escola is that kids have a chance from 6-11 to develop, before they are progressed to the Academy or not!
The Barca way
In Catalunia they play 7aside football all the way until U12, they use bigger goals then the Irish small sided games but slightly smaller than full size, this makes the game fun as they're are plenty of goals scored and for the keepers the step up to full size adult goals is not a major shock.
This 7aside game allows kids to develop technically, every players gets plenty touches of the ball and this is why most European players are all so confident and assured on the ball, they play against smaller numbers for much longer then our kids do. Only at U13 (this still means some kids are 11 or 12) is the move made to the 11 aside game. Cup Competition is not introduced until U14 level.
Change the System
To summarise so much of what we do at grassroots is good but we can always strive to do much better and don't be afraid of change, change is good, change is progressive the key to change, is to let go of fear..We must encourage kids to dribble and be creative, take risk in the attacking third, run with the ball and not alway make the pass. Encourage to go at players in a 1v1 situation instead of crossing all the time. Everything we do must be with the ball, we must start with smaller balls so kids get familiar it and develop confidence. All this must be encouraged in the SSG, the early stage of a child's development should be focused on ball work.
We must also not forget the coaches they're the important people in all this who will educate the kids, they too need to be educated on how to develop these kids properly. You can never stop learning as a coach..
More touches of the ball
In training we should be aiming to get kids touching the ball at least 100 times per session, currently an average 11 year old is touching the ball about 15 times per game in 11v11s and about 25 times in training. This is not enough touches of a ball for kids to develop technically like our Iberian friends. We must extend the 7v7 game for much longer for kids to enjoy the ball more.
We need to move away from developing Physical Energy and concentrate on technical skill, Physical Energy can be developed with the ball also, we don't need kids doing laps of the training ground to get fit.
Get kids on the ball and don't take the ball away until training is over!
"At one point, he dropped the shoulder and sent 3 United players and half the crowd behind the goal the wrong way" Alan Hansen on Messi
Past posts related to some of the above
This is a post I wrote some months back about being supportive towards your child coach
https://www.thecoachdiary.com/?p=1188
This one about keeping parents in the loop
Facebook comments:
comments
404