Coaching Mastery with Changing The Game Project
Jun 13, 15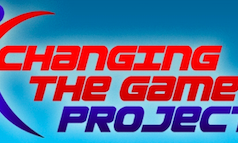 Get a free copy of the book 'Changing The Game'
Many of you know that I work closely with John O'Sullivan and the Changing the Game Project. John's is an internationally known writer and speaker, as well as a former professional soccer player and longtime coach. We share a lot of each others content as we work to transform youth sports and make it a better place for coaches to coach, and for players to play.
This week – for the first and only time in 2015 – John is releasing his amazing online video series called "Coaching Mastery." He first ran this course last year in 2014, and coaches from nearly every sport, from 4 different continents, called it one of the most unique and inspirational coaching courses they had ever done. I was lucky enough to be one of the select few coaches John offered it to last year, and the things I learned really blew me away.
See, this course is not your traditional X's and O's course. It is all about things such as the psychology of performance and leadership, how to build a winning team culture, and even how to educate your team parents so they don't drive you up the wall. He has some amazing interviews with some of the world's leading experts in sport science and psychology, coaching, and leadership. The things you will learn in this course will take your coaching, and your teams, to a whole new level.
This course is truly one of a kind
If you are interested in this type of coaching, John has asked me to invite all my subscribers to his FREE video series, where over the next 2 weeks you will learn many of these things, and hear from some amazing experts. All you have to do to get over an hour of this one of a kind coaching and leadership training is go here and sign up:
I know I am looking forward to the 2015 version of Coaching Mastery and I am confident that many of you will get a load from this free video series. Its all new content, which I'm really looking forward to.
Again, if you want to join, just sign up here.
Let me know what you think and if you have any questions about it just ask.
– End
I always like to hear your opinions. Please comment below or email me info@thecoachdiary.com, if you don't have anything to add then please forward this on to a friend.
Thanks for reading. I'm also on twitter @Coachdiary
Facebook comments:
comments
404