Coaching Seminars This September 2014
Sep 10, 14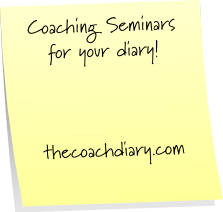 COACHING IRELAND
11th National Coaching Forum at the Institute of Technology Sligo, 26th-27th of September 2014. This Forum promises to be the biggest and most extensive gathering of professionals and volunteers involved in Sport Coaching. The Forum will attract coaches, physical education teachers, sports scientists, National Governing Body personnel and policy makers. Leading National and International presenters will take part in this event titled "Fun to Full Potential – Coaching the whole Athlete"
The 11th National Coaching Forum will combine Keynote speakers, with practical and applied sessions, with opportunities to network with coaches from different sports. Previous National Coaching Forum has welcomed up to 800 coaches, both National and international. The Forum has become a "can't be missed" event on the sporting calendar, involving coaches at all levels from up to 48 different sports.
Key Note Speakers Include:
Billy Walsh: Title – Combat Leadership – Current Challenge Facing Coaches
Richard Bailey: Title – How People Learn (and how we should coach them) Applying Research Into Learning To Sport Coaches
Niels De Vos: Title – The British Atheltics Athlete Development Model- Ensuring Age Appropriate Coaching And Competition To Enable All Athletes To Deliver Their Best Performance As Senior Athletes
Sergio Lara-Bercial: Title: Coaching Children Holistically – Spinning Plates & Moving Goalposts
Missy Parker: Title: Getting it Right In the Early Years
NDSL
Albert Vinas (Football Salou) will host the NDSL Coaches Club: 24th September 2014
Vinas is a Spanish coach who has a wealth of knowledge in elite youth coaching, having spent 20 years developing some of Europe's young stars of today. Throughout the workshop Albert Vinas will reveal the methods behind arguably the most successful style of football ever witnessed.
Vinas has not only helped develop some of the best players around, but coaches too. Vinas has mentored and assessed coaches such as the late Tito Vilanova who managed Barcelona before he died earlier this year, and Rodolfo Borrell, who previously at Barcelona's famous academy La Masia, Liverpool FC and more recently been appointed Academy Director at Manchester City.
Vinas will be taking the workshop on Wednesday 24th at the Oscar Trainer Development Centre, Dublin 13.
Venue : NDSL – Oscar Trainer Development Centre
Date : Wednesday 24th September , 2014
Time : Reg @ 6pm – Workshop 6.30pm – 10.00pm
Cost : 25 Euro per Coach / Club Deal 5 Coaches for 100 Euro.
Contact : Mitch Whitty for Information @ 087 9513624.
SWIM IRELAND
National children in Sport Conference Sligo IT: 17 & 18 september 2014.
Highlighting
Examining
Exploring
Improving
 SILENT SIDELINE WORKSHOP: Monday 29th September
Have you noticed children playing the game with fear of making mistakes?
Does your child's coach constantly scream and shout at the kids and officials?
Has your child given up the game, because it's no longer fun?
Are you a parent, a coach, a manager, a grandparent or a friend?
Have you said yes to one of the above? Then you need to attend!!
When: Monday 29th September:
Where: NDSL Oscar Traynor Coaching & Development Centre, Oscar Traynor Rd Coolock D.17.
Time: 7.30pm-9pm: Cost: €5
Content: Giving the game back; Mistakes; Playing with Freedom; Winning & Losing; Self control; Observation; Prevention; Intervention; Sideline Keeper.
Sign Up for the Silent Sideline Workshop
SILENT SIDELINE WEEKEND: 04th & 05th October
Let the kids play.
All clubs, codes can get involved.
If the opposition aren't willing to participate, no don't worry we can learn so much from observing them.
Clubs to manage this initiative internally.
Club should select 2 sideline keepers to  reinforce a positive and silent attitude on the line.
Each club should have a silent sideline ambassador.
Absolutely NO shouting or directing from the sidelines.
Coaching staff to speak to players at halftime and when making changes ONLY.
Clapping & cheers allowed for goals scored and effort for both sides.
No directing or advice from adults at anytime.
Absolutely no questioning of referee in charge of game at anytime. (If required call ref over to your side)
Rope the pitches and provide a designated area for parents. (Stand back and observe)
Kids voices are all we want to hear on match day
Lollipops are a fun way of helping people to stay silent!
To sign up go to silentsideline.org 
-End
I always like to hear your opinions and views. If you feel you have something to say, please comment below or email me info@thecoachdiary.com If, you don't have anything to add then please forward this on to a friend. As always, thanks for reading.
I'm also on twitter  @Coachdiary
Facebook comments:
comments
404