Grassroots Conference in Warsaw
Nov 29, 11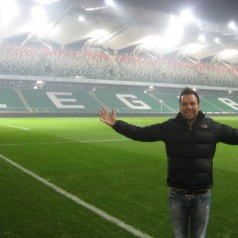 The polish trip was a well worth exercise. Academy Coaches from AC Milan, Celtic, Spanish FA, Le Havre AC, Ajax Cape Town, UEFA Training Ground, FIFA Grassroots, Ivory Coast, Legia Warsaw, Polish FA, German u15 all took sessions over the 2 days. The coaches in attendance at the conference, were also treated to a first-hand display of the benefits of UEFA's TactX, which if you haven't heard is a revolutionary coaching software from the UEFA Training Ground. (well worth a look)
The Conference
,led by the PZPN's Tomasz Zabielski Grassroots Coordinator and Robert Graf Grassroots Dept , was attended by more than 1,000 grassroots football coaches from all over the world.
The morning session commenced at 9.30am and ran right through until 6pm without stopping. All the coaches started with a Theory session, discussing there clubs and development process, then that was followed by a practical. Each Academy had roughly 1.5hrs to 2hours on the pitch. Main topics during the convention include technical and tactical practices for all ages & abilities for both boys and girls.
Theory Sessions
Practical Session
Academy Ethos
Structures
Player requirements and responsibilities
One Goal
It was great to see so many different styles coaching but all with the same goal…..to promote the game at the younger ages and to get kids touching the ball more, whilst having fun. The 2 day event was a total success and the feedback from the attendants was all positive; certainly the Polish grassroots coaches came away with some very exciting phases of play and in dept knowledge of other countries style of coaching. Personally I would have loved to have seen more of the of the coaching over the 2 days, maybe next time or maybe in Dublin next year????
This was a well worth exercise and Polish FA certainly earned some much needed brownie points. They recently cause controversy by removing the traditional white eagle emblem with a generic effort, purely for the fact that this new logo can be copyrighted easily, thus making it easier to punish counterfeiters. This change has caused such uproar that even the recent friendly with Hungary was part-boycotted by fans. This may have worked, as the Polish FA have decided to 'review' the change… Which will certainly give Nike a headache, as the shirt was meant to have been released on November 15th.
Legia
Whilst at the Polish FA Coaching Conference with were invited to go see Legia Warsaw V Zaglebie Lubin (3-0). Th Stadium was just across form the conference venue. I was very impressed with the standard of football, certainly Legia played some great 1 and 2 touch football. We got the Full VIP service and the fans did not disappoint either. I have been to many stadia around the world and come across some of the most passionate and vocal fans…but the Legia Fans are a different class, they were singing half an hour before the game and they didn't stop until well after the final whistle went. Role on Euro 2012
[media id=21]
Lets hope we get Poland!
For more information about TactX please click on tactX
Facebook comments:
comments
404