Remembering Horst Wein 1941-2016
Feb 19, 16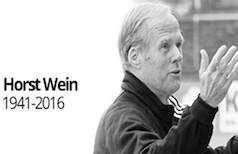 Last Sunday one of the most formative coaches in the history of the game passed away. I was going to write a message about my experiences with Horst and how I first came across him back in 2009. Dermot Dalton from the Beautifulgame.ie (a website devoted to Horst Wein Philosophy) and myself ran the first coaches seminar with Horst Wein back in 2011. Soon after Dermot introduced Ireland to a unique training programme for 7-9 year olds, called 
 which is proven component of the Spanish Football Development Model Futbol a la medida del Niño or football designed for children. These methodology was started in 1993. Find out more about this unique game >> here
This is a short video of the seminar in Dublin. It was great to see all the top people from coach education with the FAI at the workshop. I'm sure they were inspired by Horst as everyone who met him was!!!
Dermot's Message: 
Our dear friend, mentor and inspiration passed away on Sunday 14th February 2016. He will be sadly missed by his many friends in the world of football, hockey and beyond.
Born in Hannover, Germany, Horst lived for the latter half of his life in Barcelona, where he is survived by his two sons.
His influence first in the game of hockey started as a German International player, and later as a coach, leading Spain to their first ever European title and an Olympic silver medal. He was the first to be awarded the title of FIH Master Coach and also became the first ever coach to the European team for their match against Asia in 1975. His book "The Science of Hockey" has sold more copies than any other hockey book.
Horst was encouraged by FC Barcelona to bring his game intelligence approach to football and he worked as a consultant for many top European and International clubs as well as a host of international football federations. His lasting legacy to Spanish football is his famous age-appropriate development model "Futbol a la medida del Nino" which has been the official textbook there for more than two decades.
Horst will be fondly remembered for his passion to bring a child-friendly approach to coaching soccer and indeed all sports.
Here are a sample of some of the tributes made to Horst this week:
 I am sorry for your loss…for the entire world's loss.  Horst's vision and his passion were wonderful to behold, and I have no doubt that, with your help, it will continue to sweep the world.  The kids embrace it, and soon enough they will outnumber those who don't.  I feel privileged to have met him and attended your workshop last year.
I am saddened to learn the news of Horst's passing. He was an inspirational coach, and a brilliant human being. I regard it as a privilege to have met Horst, and to have spent quality time with him. His innovative approach to coaching and education and his desire to empower others meant his life will always be remembered. He impacted the world in a healthy way.
When great people like Horst pass on we all hurt. We are grateful that he left us with so much to study from, and so much to pass on. Currently, I am in a fight for the basic rights of youth players. Horst and yourself through Funiño and your passion for teaching children have been a great source of strength as I bare down in my battle against those who try to steal the innocence of the Beautiful Game.
Sometimes you know immediately that you have met someone who is a blessing in your life and in that of others. Horst was certainly one of those people and had a vision and a passion to use this great game to empower people, to educate and to serve them. He did this with an open mind and a dreamers heart.
In Horst, we've lost a world class soccer visionary. In my view, his methods put him in a class all by himself. He was unique in that he found the formula to enhance knowledge and passion for the game at the same time. All the while staying true to the simple and beautiful game. Because of Horst, there are thousands of players all around the world that got the chance to truly enjoy playing soccer at a higher level…A sad day. Horst will be sorely missed here… Thankfully he remains on the field with us at every session.
I receive this news with a heavy heart. It was an absolute honor to have met and learned from Horst. My condolences to his family. The work to deliver his message must go on. His influence is visible in the joy of the children around the world playing the beautiful game. The friendships that I have made through my relation with Horst will certainly go on and I also consider them priceless.

I guess now God will be playing FUNino in heaven! Horst has been a soccer angel on earth! He will be missed not only for his soccer excellence but as a great human being!
Horst really lived his life through his love of giving to youth sport…1stly hockey…then Football…he was always ready to learn..and always ready to share….the great thing is he has left a legacy for kids Football just when the world of kids sport really needs to lighten up and allow them to play..lets all carry on his work and help kids enjoy their sport again!
I'm thankful to have known him and I'm so appreciative for the friends I've made through him. Horst was one of a kind in many ways and he'll be missed my many around the world.
We will miss you, dear friend, but your work continues in the many coaches you have inspired to care about their sport, whether hockey, football or other, and the many children who have experienced the joy of exploring their game in a care-free discovery environment.
Dermot
===
Thanks for that message Dermot.
The TCD Facebook also page received some messages:
Saddened to here of the passing of Mr. Horst Wein the "Coach of Coaches" I had the pleasure to spend sometime with him in Barcelona and then again during our coaching workshop in Dublin back in 2011.

He said to me, "In Ireland the kids are not allowed to discover the game and the beauty of the game of football. Why, they are exposed to competition which is by far to difficult and to complex for them. Competition for kids, should fit them like their shoes. Over here, at the moment our kids are playing with shoes that are by far to big and don't suit them perfectly."
He also said that Brazil would not qualify for the 2018 world cup, that was something that I also remembered from our meeting in Barca.

Horst always challenged us to re-think youth development and he inspired me to keep challenging and developing. I know plenty of Irish Coaches will be very sad to hear this terrible news. Rest in Peace Horst
Yes agreed an inspiration…to me

Sadness. Brilliant man!

My first introduction to coaching material was through Horst Wein and he inspired me continuously improve my game.

Horst was a true inspiration and coach legend.
You can find out more about this wonderful coach on Horstwein.net and Dermot's website is thebeautifulgame.ie  
The rights of a young football player,
"Developing Youth Soccer Players" by Horst Wein (RIP)
The right to enjoyment both in practice and in competition, with a wide variety of activities that promote fun and easy learning.
The right to play as a child and not be treated like an adult, either on or off the playing field.
The right to participate in competitions with simplified rules, adapted to their level of ability and capacity in each stage of their evolution.
The right to play in conditions of greatest possible safety.
The right to participate in all aspects of the game.
The right to be trained by experienced and specially prepared coaches and developers.
The right to gain experience by resolving most of the problems that arise during practices.
The right to be treated with dignity by the coach, their team-mates, and by their opponents.
The right to play with children of their own age with similar chances of winning.
The right not to become a champion.
*Main post picture supplied by the beautiful game
End-
I always like to hear your opinions and views. If you feel you have something to say, please comment below or email me info@thecoachdiary.com If, you don't have anything to add then please forward this on to a friend. As always, thanks for reading.
I'm also on twitter @Coachdiary
Facebook comments:
comments
404