Trouble on the lines – time for ZERO TOLERANCE
Oct 04, 11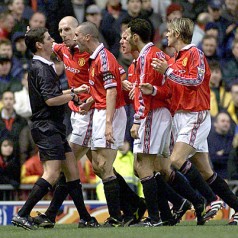 Last year we had some and this year is still going on. It was reported at a recent Referees meeting in Dublin that there has been 5 abandoned games already this season and one ref was even threaten with a blade. This is disgraceful and Parents and Coaches should be stepping in and cooling this madness before it boils over.
People tend to forget that referees don't have eyes in the back of their head and in fact the view from the sideline is almost better then the narrow view from the pitch and in most cases they don't have linesman either to assist them, so every decision is made with the best intentions. "you try and get an offside decision
ZERO Tolerance
Maybe its time we brought in a zero tolerance because the abuse and the physical treats referees are getting is unacceptable. Clubs could be doing more to help these men in black and ban coaches and parents who make treats against them. Also verbal and abusive language used at any game should be an automatic red card and removed from the sidelines. Lets not forget these men and women are trained to do a job which at the end of the day is to  make sure the game is played according to the laws of the game and without them we would not have a game.
If anyone else in the public domain was abused like this, the guards would be called and that person arrested for threatening behaviour. I for one would have no issue with that!
Referee like players should be protected from abusive coaches and parents and we as coaches need to take control of our lines and stamp out this appalling abuse.
After all its only a game an a recreational game at that!
Facebook comments:
comments
404