Grassroots Live – BRMB
Jun 10, 11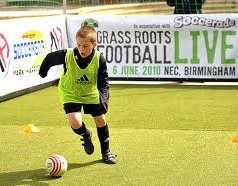 I was delighted to spend last weekend at Europe's biggest football show, Grassroots Live at the NEC in Birmingham. I was also pleased to meet other Irish Exhibitors and coaches who flew over for the weekend to listen to some of Englands, Scotlands and Wales former players and managers. Although smaller then last year, I truly enjoyed the weekend and made some great contacts as well as some new friends.
The Irish Involved
I meet people from the Tipperary leagues, coaches from Peamount, St. Kevins and members from the FAI. The Northern FA had over 30 coaches (Not to happy with us) attending the weekend, the Scottish Youth FA also had several coaches and many many coaches from the UK and Wales Leagues. Arsenal Schools were their, as were West Brom, Cardiff, Swansea, Derby, Chelsea to name a few.
Grassroots live is a Exhibition for anyone and anything involved with soccer. Visitors to The Grass Roots Football Show come from the 38,000 clubs that provide organised football at all levels. 63% are adults and responsible for running the game at grass roots level. The majority of these are coaches and managers, also plenty of Players both Boys and Girls attended over the weekend also.
"2010 visitor survey – 69% of adult visitors were involved in a grass roots football club"
The younger visitors all have one thing in common – they just love playing football and want to learn from the pro's as well as showing off their skills in the various football arenas. Arenas where the kids can just play and the parents watch on clapping the boy and girls through every game.
The Coaches
I met a whole host of famous football faces in attendance, from Peter Taylor, Iain Dowie and Chris Hughton, to Graham Taylor and Tosh Farrell. Some of the best grass roots coaches in football ran technical coaching sessions to cover all aspects of the game, from set pieces, defending, to warm ups, attacking and finishing. I was a little disappointed that they did not have one single European coach, I was expecting a little Dutch or Spanish to spice up the weekend.
I was delighted to see many Irish companies Exhibiting at the Expo and some had even invented their own products.
The Products
Teamer.net – Teamer is an online team management system created and designed to minimize the effort involved in organizing your team. Founded by a unique mix of internet professionals with extensive experience of team captaincy at both the competitive and social level, Teamer uses the web to significantly decrease the amount of time it takes to get your team on the field.
DB Sports Tours – DBSportsTours specialises in Team Tours to FCBarcelona, Sporting Club Portugal, Premier League Acadamies and Irish Tours, Coaching Clinics with and at the worlds top academies, Sports Seminars and Training Camps.
STRIKEZONE SOCCER – Strikezone's "Complete Technical Training System" was designed to introduce players of any age to new techniques and foot skills.
FACT – Color plays a vital role in Learning and Memory Retention. The Strikezone CTTS's uniquely coloured Visual Training Aids (VTA's) effortlessly identify the different zones of the feet used to execute all the technical skills. The Strikezone Free Kick Specialist Ball (FKSB) is the most instructional training ball available today. This revolutionary new training system is available in Europe and the USA ONLY THIS YEAR.
Information and Video Demonstration available at www.strikezonefootball.co.uk
Air Structures International – The Guys behind the i-Goals and i-Lites
Who are the company that sell the igoals and ilite. If you haven't already heard or seen these products they are fantastic. The igoal comes in various sizes for age groups and types of soccer from Street, Futsal, Mini to Junior 7v7, 9V9 goal and full 11v11.
Portable inflatable goal
Durable lightweight and safe
Fits easily in carry bag
Goal is simple to rollout and repack for convenient storage
2-way pump which inflates and deflates
Ready in seconds!
Pre-attached net allows for immediate playing and fun
Suitable for any age group
Can be used on all surfaces – grass, sand, asphalt, gym floors and many more
What is behind the patented technology which makes Air Structures International products unique?
The frame – developed using 3 layer hose with a bursting pressure of 5.6 bar (81.2psi) Our soccer goals are inflated to a maximum pressure of 15 lbs per sq inch (i.e. 1 Bar). At this pressure the goals becomes rigid, straight and when a football hits the frame it reacts as a normal soccer goal.
The connectors – are made of ABS – commonly known as engineering steel with a high tensile strength.
This products are brilliant and ideal clubs who are may only have a all weather with permanent goals, the goals and ilites can be set up anywhere. Click on this link to see for yourself → http://www.airstructuresinternational.com/ To get some for information about these products contact Gavin Whelan and Micheal Fanning w: www.sportslions.com, e: sales@sportslions.com, t: + 353 1 8106724, m: +353 87 4174917, G +353 86 046 0170
Other products on show were Dion Dublins Dube http://www.thedube.com/, The Soccer Matrix http://www.soccermatrix.co.uk/index.php to name a few
If you need any further information about any of the above products, see the relevant websites or drop me a line and i'll try and help.
Facebook comments:
comments
404