Irish Football Parents Conference – Dec 14th'2019
Nov 12, 19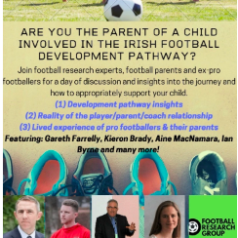 Are you a parent or guardian of a young person with ambitions of pursuing a career as a professional footballer?

If your child has that potential then getting the right advice can be difficult. Seeking to maintain a balanced approach to their education and personal development can be a challenge.
The Irish Football Parents Conference will help provide parents with objective information which can help avoid some of the pitfalls which have prevented other young footballers from achieving their ambitions in the game.

This conference will feature:
first-hand experiences from former international players (male and female)
the perspective of clubs, coaches and parents of current professional footballers
the latest academic research into the challenges of a career in the professional game.
The event will be split into three sections:

Part 1 – Football development insights

Part 2 – The relationships between the parent, player, coach and the game

Part 3 – Lived experiences from when the game becomes a career

There will also be a Q&A with some of the speakers at the end of the session.

CONFIRMED SPEAKERS INCLUDE:
Gareth Farrelly (Former Ireland, Everton, Aston Villa & Bohemians player and manager)
Kieron Brady (Former Sunderland & Ireland U21 international)
Áine MacNamara (Elite Performance expert) Visit https://www.greymattersuk.com/)
DATE: SATURDAY 14TH DECEMBER 10 AM TO 5 PM
LOCATION: Dublin City University
More speakers to be confirmed in the coming weeks.
This group includes current and former football coaches, academics and teachers. This event has been organised in conjunction with the Irish Football Research Group (Supported by Waterford IT), Futsal Ireland and Optimize. Follow them on Twitter: @ParentsIrish
FOR MORE INFO GO TO https://irishfootballparentsconference.com/
Facebook comments:
comments
404