RAY POWER – Deliberate Football Practice
Jul 17, 19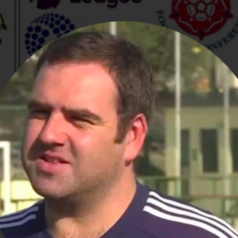 In football, attacking sessions are loved by players.
The chance to be creative, attack and score goals is hugely prized by players at all levels of the game.
The final piece of the game is creating and scoring goals, and it has the reputation of being the most difficult part of the game – not many other sports can commonly offer results that do not involve a single goal or point being scored.

Many coaching sessions are flawed when it comes to linking attacking practices to the actual game of football. Too often players are placed in queues, waiting their turn, before dribbling around a static, predictable line of cones and shooting from a fixed position. The attacking element of the Deliberate Soccer Practice framework attempts to address this by evoking the concept of real game returns.

This workshop will combine both theory and practical elements to give coaches an understanding of the Deliberate Soccer Practice methodology with a focus on the attacking side of the game.
Ray earned his UEFA A Licence with the English FA and has over a decade of experience working at all levels of the game there – from non-league to Premier League, including 6 years in Academy Management. He designed, developed and implemented an academy for Sunderland AFC in Africa.
In 2014 his first book, Making the Ball Roll was published and is one of the most successful youth coaching books ever. This was followed up with Soccer Tactics 2014 and the Deliberate Soccer Practice series, selling over 15,000 copies worldwide.
Since moving back to Ireland in 2017, Ray has been Head of Youth Development at Waterford FC, consulted with the FAI & other youth clubs, and develops coaching curricula for coaches and clubs all over the world.
Follow Ray on twitter: @RayPowerCoachE1 & @power_ ray
WHEN: Saturday, August 31st
TIME: 2 pm to 5 pm
WHERE: Drogheda Town FC, Marian Park
COST: €15
WORKSHOP:
Using Small-Sided Games in Player Development
In an engaging, club-based environment, this workshop will look at:
– The variable nature of the game
– How our training sessions 'compromise' the real game
– Using the game as 'a' teacher
– Communication skills
– Using conditioned / constraints-based games
– Whole-Part-Whole sessions
– Evidence-based benefits of SSGs
– Futsal
-end
I always like to hear your opinions and views. If you feel you have something to say, please comment below or email me info@thecoachdiary.com If you don't have anything to add then please forward this on to a friend. As always, thanks for reading.
I'm also on twitter @Coachdiary and @LetTheKidPlay
Facebook comments:
comments
404