Killarney Athletic FC U11 Development Weekend 2013
Apr 07, 13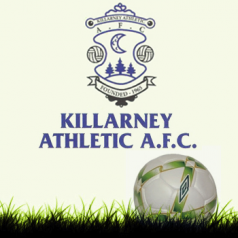 Killarney Athletic  are hosting a development style Festival on Friday 17th to Sunday 19th May. This even which is not a typical tournament but putting more emphasis on player development and allowing kids to play without the added pressures of adults and coaches screaming from the sidelines.
To learn you first have to make mistakes
The game will 30 minutes long of 9 a side football, with teams playing 5 games over the weekend.  Robin O'Day of Killarney Athletic said,
"This is about clubs coming and playing a minimum of 5 matches each & giving everyone of their players plenty of game time in a fun safe environment. We have clubs coming from 9 different schoolboys leagues, too many potentially good young players are being destroyed at a young age due to so many coaches win at all cost and instant success philosophy. This philosophy does not encourage players to try things on the pitch hence a fear of doing the wrong thing on the pitch seriously diminishes young players confidence. They want the parents and coaches to allow the kids to play and make mistakes.
Let them play

Let them try things
Let them make mistakes
Let them learn from mistakes
The weekend is an ideal scenario for coaches to bring teams to play in uncompetitive situations and play with the freedom that should be done at this age. To learn you first have to make mistakes.
If you want to get involved with this Festival contact Robin O Day at Killarney Athletic
Facebook comments:
comments
404