New (dates) Coerver Coaching Academies & Workshops
Feb 25, 15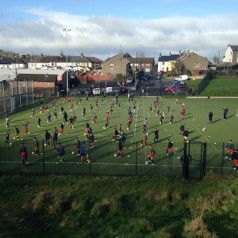 Coerver Coaching are opening new Training Academies and running their coaching workshops around Leinster and Munster. For further information email Stuart for Leinster and Jason for Munster.
Leinster
FIRST SKILLS 
TUESDAYS – Blackrock, Dundalk
4-6 year olds @ 4-5pm
7-14 year olds @ 5-6pm
Navan 6-14 year olds
FIRST SKILLS 
WEDNESDAYS – Santry
4-6 year olds @ 4-5pm
7-14 year olds@ 5-6pm
THURSDAYS – Celbridge 
FRIDAYS – Spawell, Templeogue
Also Blanchardstown starting March 2015
COACH EDUCATION COURSES 
March 8th Coerver introduction Cert (3HRS)

July 11the/12the Coerver Diploma Course
For additional information or to book email Stuart at  Info@coerverleinster.ie
Or Friend them on Facebook at the following link Coerver Leinster
Coerver Coaching, the world's no1 skills teaching method
Munster
Coerver Coaching Youth Diploma – Limerick 
Coerver® Coaching is the worlds leading football education brand, endorsed and recommended by the top federations, associations, legends/experts of the game, club teams and corporations. Inspired by the teachings of Wiel Coerver and created in 1984 by Alfred Galustian and Chelsea great, Charlie Cooke.
"As part of our commitment to soccer development in Munster, I am delighted to confirm Limerick as a chosen venue for Coerver 's 2015 Youth Diploma Program, and welcome Scott back to Ireland to deliver the course."
Jason Brown, Coerver Coaching Munster Technical Director.
Coerver's Youth Diploma Course is the foundation course of our coach education pathway. The course runs for 12 hours (9:30 to 4:30 each day) and is delivered by Scott Wright, Stoke City FC & Coerver UK Director.
The curriculum has been developed over the last 30 years and is designed specifically to compliment existing Football Federation coaching pathways
Day 1
Coerver Approach (theory)
Warm Up & Speed (practical)
Coerver Curriculum (theory)
Change of Direction (practical)
Day 2
Coerver Session Planning (theory)
Group Play (practical)
Tips to be a Better Coach (theory)
Model Coerver Session (practical)
The purpose of the Youth Diploma is to help you, whether you are a professional academy coach, senior , junior ,youth coach, teacher or parent to plan & deliver more effective youth coaching sessions .As delivered to many Professional Clubs & organisations including Real Madrid, Man City, Stoke City, Benfica, Sevilla, Werder Bremen
For further details and to book your place online
-End
I always like to hear your opinions. Please comment below or email me info@thecoachdiary.com, if you don't have anything to add then please forward this on to a friend.
Thanks for reading. I'm also on twitter @Coachdiary
Facebook comments:
comments
404