Champions Cup: North v South
Dec 18, 13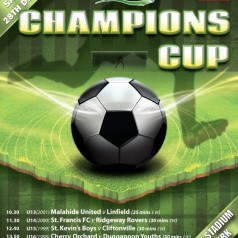 Saturday December 28th – DB Sports Tours Champions Cup day.
After the success of last season's newly-expanded tournament at Oriel Park, DBST are delighted to unveil this year's line-ups.
All five southern champions from Dublin were victorious against their Northern counterparts in January and with the most recent SFAI finals dominated by capital success again it promises to be an exciting day of action.
Malahide United will represent Ireland at the Danone Nations Cup after following up their SFAI final win over Cork's Corinthian Boys with a recent qualification blitz success.
The North Dubliners will face Linfield in the Under-13 Champions Cup Final looking to follow in the footsteps of Crumlin United – who beat Glentoran in January.
St Francis FC followed up their Under-13 Champions Cup win earlier in the year  (BELOW) by seeing off St Joseph's Boys in the SFAI decider to set-up their return.
They will now face Ridgeway Rovers in the Under-14 showpiece at Oriel Park looking to retain their crown.
The SFAI Under-14 Cup winners for 2013 St Kevin's Boys are a very special team, having claimed the national title three times in a row.
Cliftonville will look to stop them adding All-Ireland glory to that impressive trophy cabinet in the Under-15 game.
Cherry Orchard won the Under-14 Champions Cup last time, but following their national success over Lucan United at a different age group, this time they will be represented at Under-16 level.
Dungannon Youths are their opposition come December when the successful south Dublin club look to earn another title.
In the final Champions Cup clash, the Under-17 decider, SFAI Under-16 champions Belvedere will face Cliftonville.
The Draw
U13 (2001)
Malahide United V Linfield
U14 (2000)
St Francis FC V Ridgeway Rovers
U15 (1999)
St Kevin's Boys V Cliftonville
U16 (1998)
Cherry Orchard V Dungannon Youths
U17 (1997)
Belvedere V Cliftonville
To find out more go to DB Sports Tours Website
==
I always like to hear your opinions. Please comment below or email me info@thecoachdiary.com If, you don't have anything to add then please forward this on to a friend. Thanks for reading. I'm also on twitter @Coachdiary
Facebook comments:
comments
404