COACHTALK: Anthony O'Neill
Dec 09, 13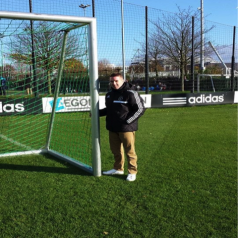 Anthony is a football coach back living in Ireland, having spent some time abroad. I caught up with him last weekend at the Multi directional Workshop with Mike Antoniades at the NDSL Development Centre. In this brilliant insight into the Ajax philosophy; Anthony talks about how they implement the methodology both in Holland and Ireland.
TCD: What got you into coaching and how long have you been doing it? 
AON: I initially got into coaching through a FAS football coaching course I attended in Galway 10 years ago. John Power, who operates a very successful soccer school of excellence called Power Soccer was my mentor on the course, and he asked if I'd like to assist with the weekly sessions in the school of excellence. One of my reasons for attending the course initially was to learn from someone like John and I'm thankful to him for introducing me to coaching. After a few weeks I began to lead sessions on my own and John then asked me to help out with the Galway Schoolboy League Kennedy Cup squad as an assistant coach. I spent 18 months with the team and to be involved with a Kennedy Cup squad as a young coach at 21 years old was a great learning experience for me personally. From that squad Daryl Horgan, Stephen Folan and Enda Curran are now playing in the League of Ireland Premier Division, several have represented Ireland at international level and Joe Shaughnessy is playing in Scotland for Aberdeen.
"Another interesting facet of the academy is that the coaches are only offered one year rolling contracts. This helps to prevent the coaches from 'taking it easy' and increases their work ethic, taking into account that every coach in Amsterdam has aspirations to be a coach at Ajax"
Since that initial involvement in coaching I continued to pursue further education which led me to a soccer scholarship in America. At the same time I began coaching youth soccer in the States and obtained my coaching badges alongside a degree in Sports Management. After graduating I spent 6 months coaching in Singapore before returning home to Ireland to work as the Head Coach for Coerver Coaching for almost 2 years. I spent the last year as Academy Director for Everton's affiliation club Everton America in Connecticut and New York, where I was responsible for overseeing a development programme for Under 7s to Under 12s. In September I moved home again to start work on a new project with the Football Coaches Association of Ireland in partnership with Ajax.
TCD: What is your coaching philosophy? 
AON: My coaching philosophy is to develop confident, creative and skilful players who are encouraged to express themselves and play with a sense of freedom. For me personally, winning should not become important until senior football or at least until the latter stages of youth football. Having worked with players at the younger age of the spectrum for many years, I find that they naturally want to win games anyway, therefore my focus should be on developing the technical and tactical side of the individual player so that he has the necessary tools to perform to the best of his ability when he enters the environment of senior football. I'm not saying as coaches we should not attempt to win games, but I do believe that playing with a certain style of play that is beneficial to the long term development of the player is more important especially in youth football.
Enthusiasm is one of the most important characteristics to have as a coach when working with young players and it's always good to offer encouragement. Using simple words like "well done" can have a big effect on a child's confidence. It's important to build a relationship with each individual and I try to do that with every player I coach.
TCD: You're just back from the Ajax Academy, tell me about your trip? 
AON: First and foremost I'd have to say the best thing about the trip was having first class access to the academy. Myself and the other FCAI members who made the trip were not only allowed to watch academy training and games but also to interact with the coaching staff. We were given lectures on the Ajax vision, philosophy and style of play by Eddie van Schaick, as well as a discussion on the Ajax scouting methodology by Head Scout Ronald De Jong. Ronald explained that Ajax invests and networks with the amateur clubs within Amsterdam granting them access to the Ajax Online Academy training programme. The advantage of this is that all players are coached the same way as those in the academy, making talent easily identifiable and making the transition from amateur club to Ajax Academy an easy one, with very little difference in the style of play.
We were given little tasks to complete such as match analysis of the Under 13 & Under 15 games. We were asked to analyse the style of play as well as pick out 3 prospects on each team which we felt best fitted the profile of an Ajax player. These exercises helped with the learning process and to better understand what was discussed in the lectures.
"The youngest team at the academy is the Under 8s. They train 3 times per week with an emphasis on developing technique and game intelligence using small sided games. Initially I was a little surprised to learn that this age group play 7v7 on match day but having watched them play on the Saturday morning it soon became clear to me that they were capable of playing this format"
It was evident from viewing academy training and games and a 1st team game at the Amsterdam Arena on the Saturday night that there's a philosophy and style of play evident throughout the club from the Under 8s right through to the 1st team. The Ajax style of play is based on playing attacking attractive football, dominance in possession and 1v1 situations, playing out from the back and full field pressure. Every team within the academy plays with this style in either a 3-4-3 or 4-3-3 formation. Similar to Barcelona and Bayern Munich, Ajax play with one holding midfielder (6) and two attacking midfielders (8) & (10) within the 4-3-3 formation, which is slightly different to playing a 4-2-3-1 formation. Having watched numerous games at various different age groups in the academy it was great to see each team attempting to play the same and believing in 'The Ajax Way'.
In relation to training, which is all conducted at De Toekomst (The Future) across the road from the Amsterdam Arena, which in turn acts as a motivational and aspirational tool to all the kids within the academy, the focus is primarily on developing the individual. The Ajax Academy is not concerned with winning trophies at youth level but moreover producing players for the 1st team. One of the objectives each year is to produce one or two Under 19 players to play in the 1st team and 70% of the 1st team need to be academy produced players. Ajax spend €6 million per year on their academy.
Ajax has a fantastic strength and conditioning programme which is also an important part of the training for the youngest age groups within the academy. Balance, coordination and footwork are enhanced as early as possible and the club even employee judo and gymnastic coaches to work with the players. It was fascinating to watch the judo coach work with the Under 8s on their core strength as well as developing football combat to prepare the players for the physical side of the game. Attention to detail is also paid to the growth spurt of players between the ages of 12 and 16 with the workload on individual players more relaxed. The club can determine when a player is going through a growth spurt thanks to cutting edge technology from the sports science department. As players begin to exit their growth spurts, coaches then look to re-engage the player technically, physically and mentally.
Another interesting facet of the academy is that the coaches are only offered one year rolling contracts. This helps to prevent the coaches from 'taking it easy' and increases their work ethic, taking into account that every coach in Amsterdam has aspirations to be a coach at Ajax. The club feels that if the players are under pressure to improve and maintain their position within the academy, then so should its coaches.
I found the staff at the club to be very welcoming and it was evident from spending three days immersed in the academy that the club possesses a family environment with a relaxed atmosphere whilst at the same time maintaining a very professional outlook. The majority of the coaching staff consists of ex academy players and it's easy to bump into some of the former greats of the club who often come to watch the academy games on a Saturday morning. Some of the names involved with the club on the coaching side include 1st team manager Frank De Boer and 1st team coach Dennis Bergkamp, as well as Marc Overmars, Jaap Stam, Wim Jonk and Bryan Roy. Edwin Van Der Saar is involved on the marketing side while one of the greatest players of all time Johan Cruyff is also a big figure within the club.
I had the privilege to meet with Arnold Muhren who scored in the FA Cup final for Manchester United as well as winning the Uefa Cup with Ipswich Town under Bobby Robson. He also won the Cup Winners Cup and European Cup with Ajax and crossed the ball for the famous Marco Van Basten goal at Euro 88 which Holland went on to win. Arnold is a former youth coach at Ajax and has been to Ireland to conduct coaching seminars in partnership with the Football Coaches Association of Ireland. I'm already looking forward to the next trip in April as well as welcoming Patrick Ladru (U13-U16 Technical Manager) to Limerick and Galway that same month to conduct  the first ever Ajax coaching workshop in the west of Ireland.
TCD: Tell me about their SSG pathway and how it differs to ours? 
AON: The youngest team at the academy is the Under 8s. They train 3 times per week with an emphasis on developing technique and game intelligence using small sided games. Initially I was a little surprised to learn that this age group play 7v7 on match day but having watched them play on the Saturday morning it soon became clear to me that they were capable of playing this format.
The players were comfortable in possession and attempted to play out from the back when possible and had plenty of success in doing so. The formation used at this age group is either a 3-3 or a 2-3-1 and as with the older teams the focus is on keeping possession and taking players on in 1v1 situations. My conclusion is that at the academy level players are capable of playing 7v7 at Under 8 but games of 4v4 for example are more suitable for players of this age at amateur grassroots clubs which is the format we are moving towards in Ireland because we don't have professional academies. It's worth nothing that at Ajax we are talking about the best selection of Under 8s in Amsterdam all playing on the same team and we don't currently have that situation in Ireland. One of the aims of the FCAI Player Development Programme is to get the best young players in a region as young as Under 7 training together one night per week and playing against other regions four times per year in a non-competitive small-sided games format.
Ajax U8s Playing Out From The Back
(Watch how they can pass 15/20 yards with ease, playing with a lighter ball)
Under 8's
Another point of note is that the Under 8s play with a size 5 football that is much lighter in weight to a standard football. Even players as young as 7 years old were able to play 20-25 yard passes with proper weight which was intriguing to watch. The lighter footballs if anything encourage young players to get their head up and play a pass over a longer distance i.e. switch play because the football allows the player to technically make the pass. The result is young players passing the ball and keeping possession way beyond their years and this is mainly due to the weight of the football. On the other hand you could argue that a size 5 football is more difficult to control technically but that was not apparent at this level and we will be using these lighter weighted footballs in the Player Development Programme which incidentally also come in a size 4 for the youngest age groups. The 7v7 field did not have a penalty area which helped with the keeper joining in the play as a sweeper because he was not mentally restricted by his area. Corner kicks were taken at least 5 yards in from the corner flag and this was the same in the 11v11 set up so that the players could reach the penalty area with the kick.
Teams progress from 7v7 to 11v11 at Under 11s and again having watched games at this age group it was evident that the players were comfortable with this format. They spend 3 years (U11-U13) playing in a 3-4-3 formation with a midfield diamond which helps with the development of 1v1s both defensively and offensively. If both teams play with a 3-4-3 formation you will notice that players are matched up in 1v1 situations all over the field. Teams then progress to using a 4-3-3 formation at Under 14 with one holding midfielder (6) and two attacking midfielders(8) & (10), similar to the Ajax 1st team as well as the current Barcelona and Bayern Munich 1st team.
The term over coaching is being used a lot in relation to kids soccer and we always hear people say, 'let the game be the teacher', how do Ajax coaches, coach? 
 In particular with the younger age groups which begin at Under 8, the coaching incorporates teaching the fundamentals of dribbling, receiving & passing and finishing with a heavy emphasis placed on developing creativity in 1v1 situations and the use of overloads i.e. 2v1s and 3v2s. Small-sided games are also widely used within the training sessions to develop game intelligence.
A recurring theme is that regardless of the age group, coaches only offer gentle encouragement on the sideline. The focus on match day is not the result of the game but how well the individuals in the team apply the topic of the previous week's training which can be anything from playing out from the back to forward runs without the ball. There seems to be a great understanding between the players and the coaches of the set objectives for each game which is most often determined by the Technical Manager for a specific age group i.e. U13-U16.
In a coaching environment that facilitates development over winning, coaches are required to be as efficient as possible, providing maximum playing time in training sessions where enjoyment is the main priority; ensuring players are open to learning, whilst simultaneously removing the players from their comfort zone in order to take calculated risks. To maximise each player's development, positions are rotated from game to game, preventing players from becoming one dimensional and instead producing talent capable of playing multiple roles at the highest level. 1st team player Daley Blind, son of Danny Blind is a great example of this as he is equally inept at playing as a holding midfielder as a left back and he was particularly outstanding in the recent win against Barcelona when he had to play both positions.
TCD: If we class success as winning in the same way Barcelona have done for many years, why can't the Ajax formula work for Ajax in the same way it has done for Barca?  
AON: The Ajax formula is the most successful in Europe in terms of producing young players although not as successful as Barcelona in terms of winning the Champions League in recent times. I read a report recently from the International Centre for Sport Studies (CIES) which conducted a survey of Europe's most competitive 31 leagues last year and found 69 players who had been coached at Ajax. This placed Ajax in first place ahead of Barcelona who finished fourth.
The problem Ajax encounter on almost a yearly basis is that due to not playing in one of the biggest and most lucrative leagues in Europe they struggle to hold on to their best players. I watched Ajax beat Barcelona 2-1 recently playing attacking free flowing football very similar to what we have witnessed from Barcelona themselves over the past 5 years. The majority of the Ajax team consisted of academy graduates with the average age of the side in the early twenties. I believe that if Ajax could have held on to players like Luis Suarez, Gregory van der Viel, Jan Vertonghen and Christen Eriksen allied to the current crop of young players they would indeed be challenging for the Champions League. It remains to be seen if they can hold on to the current group but in any case they will continue to produce good young talent because that's the Ajax way.
TCD: Tell me about Ajax's involvement in Ireland and how you're getting involved? 
AON: Ajax initially set up the Ajax Online Academy to assist amateur grassroots clubs in Amsterdam and the surrounding area. The system provides access to 32 weeks of age specific training sessions from Under 7s to Under 15s as well as a player tracking system to evaluate each player and provide feedback to parents as well as other coaches within the club. As Ajax recruit the majority of their academy players from within Amsterdam itself this programme makes sense in that the coaches within the amateur grassroots clubs are able to use the Ajax coaching methodology and have access to a curriculum that coincides with Ajax's philosophy and style of play.
Now the Ajax Online Academy has become available worldwide and is the official education partner of the Football Coaches Association of Ireland (FCAI). Through the FCAI club partnership programme clubs in Ireland can from a partnership with Ajax which entitles that club to access the Ajax Online Academy curriculum and participate on twice yearly trips to Ajax to see at first-hand how the academy operates from top to bottom.
I'm involved with the FCAI Player Development Programme which is a new initiative aimed at the development of young players aged 6-12 years old. There are currently two programmes in Dublin with further programmes planned throughout Ireland in 2014.
The Player Development Programme will operate on a regional basis. The programme is step by step in format and is developed in a non-competitive environment, which allows kids to improve consistently through their own mental and physical growth patterns, while also, crucially, enjoying the beautiful game.
Children are encouraged to continue to play and train for their club sides as part of their development. The programme will organise quarterly tournaments internally with other provinces. The tournaments are designed to give players the opportunity to play games across Ireland against those who are receiving the same footballing education.
From my experience teaching good habits and developing technique and game intelligence is best taught to players aged 8-12 years old which in Japan is called the 'Golden Years of Learning'. Players at this age are most receptive to learning technique and gaining an insight into the game which relates to the Ajax TIPS model of recruiting players based on technique, insight, personality and speed.
The key for us is to make sure that players in these younger age groups are receiving quality age specific technical and tactical coaching similar to that at professional clubs on the continent.
TCD: How many clubs are using this method in Ireland? 
AON: Hartstown Huntstown and Cabinteely FC are the two clubs in Dublin currently using the Ajax Online Academy. Hartstown Hunstown has been using the programme for just over a year now and they had 15 coaches on the recent FCAI trip to Ajax where they learned about the Ajax vison, philosophy and style of play. The Ajax Head Scout also spoke in detail about the Ajax TIPS Model and the process involved in recruiting players for the academy.
Cabinteely FC are the latest club to become a partner of the Ajax Online Academy and the FCAI are currently speaking to numerous clubs up and down the country about potential new partnerships in 2014. I believe that this is the best education programme for amateur grassroots clubs on the market and clubs are aware of this when they see the FCAI presentation.  Not only can coaches attend Ajax coaching workshops in Ireland and travel to the Ajax Academy in Amsterdam, they also have full access to a complete age appropriate online curriculum developed by Ajax which they can use on a weekly basis at their club. This in turn will only benefit the long term development of the players.
TCD would like to thank Anthony for this brilliant insight into the 'Ajax Way'. If you wish to get in touch with Anthony, you can email him at anthony@fcai.ie
==========
I always like to hear your opinions. Please comment below or email me info@thecoachdiary.com If, you don't have anything to add then please forward this on to a friend. Thanks for reading. I'm also on twitter @Coachdiary
Facebook comments:
comments
404