Tactic Talk
Nov 23, 16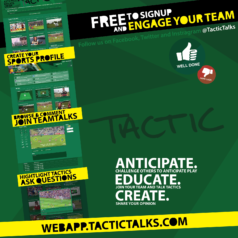 TCD – What is Tactic all about
Tactic – Tactic is a new website for players and coaches to share sports video. We have taken the footage editing tools you see on 'Match of the Day' and made it easy for everyone to highlight Tactics. Users can link Youtube videos of their favourite team, or their own match footage and then add their analysis. They can share this with everyone or in private 'TeamTalks'. It's a really fun website to browse and watch how other read the game.
TCD – What makes you different?
Tactic – Tactic focuses on Fun rather than data. With Tactic you can embed questions for others to answer – "Will he score, What pass does he make, what would you do next" – when you share the video other users have to anticipate play – a core skill in soccer but something thats hard to teach!! Tactic allows you to discuss the game, not just the outcome.
TCD – Does it cost anything?
Tactic – No, and that makes us different too, Tactic is FREE for Players and Coaches to join. Like Facebook everyone creates a profile so you can follow teammates or other coaches. When signing up you have to select if you are a Coaches or Player – Coaches can create TeamTalks and  create drill templates.
TCD – What age do you have to be?
Tactic – We allow Players from 10yrs.+ to join Tactic and create their first sports profile. However we are very conscious of minors and they are required to enter a parent/ guardian email when they signup. This is used then to notify the guardian when they are added to any TeamTalks. Also if someone asks to follow them an email is sent to the guardian again. We know that kids spend hours on Youtube looking at videos so we have created a platform that is safe and sports focused for them to watch and interact with video – created by their coach or teammates.
TCD – How easy is it to create a TacticTalk?
Tactic – Have a go!!! It really easy and we have posted some videos on our TacticTalks Youtube channel to explain how. We are a new Startup here in Ireland so we will be adding new features as we grow, because we allow users to ask questions about the footage we have some really cool features to add. Our saying is "The footage stops, the Game begins"
To find out more go to Tactic Talk you can also check out their YouTube Page – Create a TacticTalk and YouTube Tactic Talks – About TacticTalks
Founder of  Tactic Sports Software Ltd is Conor Duff you can reach him at conor@tactictalks.com
-End
I always like to hear your opinions and views. If you feel you have something to say, please comment below or email me info@thecoachdiary.com If, you don't have anything to add then please forward this on to a friend. As always, thanks for reading.
I'm also on twitter @Coachdiary and @LetTheKidPlay
Facebook comments:
comments
404