Coerver @ the NDSL Academy, earlier tonight…
Jul 11, 12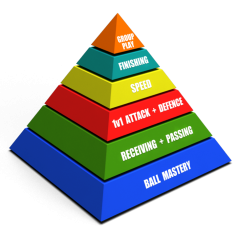 Considering the winter conditions, there was great turn out for the Coaches Club at the NDSL Academy tonight. From start to finish this was an extremely well organised session; fun, fast and thoroughly enjoyable.
Austin and Ross from Coerver Coaching, put on one of the best Technical skills sessions I have ever witnessed. The 16 NSDL Academy players were put through a fast and exciting session working on speed, agility, coordination, stamina and strength. The drills required the players to use both feet at all times, change of direction, step overs and feints in 1v1, 2v2, 3v3, 4v4 and 8v8 practices.
5 changes of direction: 1.Inside cut, 2. outside cut, 3. U Turn, 4. Hook, 5. Turn Step on
What I liked so much about tonight was that every player was on the ball from start to finish and they even experimented with size 1 balls up to size 5. They also worked on decision making for both defender and attackers, combined with running with the ball and finishing under pressure.
The players had to be sharp, working on Speed, Game intelligence and finishing. The session was completed with a shadow practice session on a full pitch, playing in a 4-3-3 formation. Playing out from the back, into midfield and up to the front man with variations using the wide men and over-lapping fullbacks. At all times the players were encouraged to be sharp, quick on the ball, moving it at speed and keeping the shape of the team intact.
This was my second ever live Coerver session and already I can't wait for the the next one.
Next Month
Coerver are back in Dublin for the Diploma Course, which I will de-fin-itely be attending.
Each Attending Coach Will Receive:
2-days of expert tuition from Coerver® Coaching co-founder Charlie Cooke & Coerver Ireland Director Austin Speight.
Full course resource material & New Coerver® Coaching 5-disc   "Session Planner" DVD (Worth € 69.99)
Coerver® Coaching Youth Diploma Certificate of Attendance
Dates: August 25th, 26th 2012
Venue: NDSL, Oscar Traynor Centre, Coolock,Dublin.
Times: 9.30 registration, 10am start, 16.00 finish. 
Price: €229
PS. A huge shout out to Mitch Whitty on the continued success of the coaches club. Well Done Mitch!
Facebook comments:
comments
404