Irish Soccer is on its knees…..
Jun 24, 12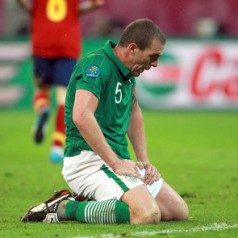 Was John Delaney on a holidays or was he at work?? Yes, he is entitled to go out with family and Yes he is entitled to have a drink, but why does he think drunkenness is an acceptable behaviour in public… After all, he is the CEO of the Football Association of Ireland and he should act like one or should we  just accept this because he is Irish.
Was this a personal PR mission to get the fans behind him? Answers on a post card.
Would you find Ángel María Villar the president of the Royal Spanish Football Federation acting like that? The answer is NO! In fact, I doubt you would get any president and/or CEO of any association or business letting himself down like that. Can you imagine the IRFU chief executive Philip Browne doing this sort of stuff? Exactly. Likewise, with Liam O'Neill, the GAA president. The man should have a little more composer and class.
'Every morning we had a meeting a 9am' JD
In today's Irish Independent article
by Dion Fanning, John Delaney defends his drunkenness, his unquestionable achievements with grassroots football and the success of the European championships on an administration point of view. See part of the article here http://www.independent.ie/sport/soccer/euro-2012/irish-news/im-entitled-to-the-odd-night-out-too-delaney-3147499.html
We've come out very well out of the Euros because we've got to a tournament and organised – when you see the folders there of all the work that had to be done – we've organised a tournament that was pretty faultless administratively and that's the key role and that's what we've achieved' JD
In Summary of Article
What annoys me most, is this article seems to portray that alot is being done for grassroots football and this is clearly not the case. This was JD way to promote all he has done for Irish soccer and if the Euros was a success on an administrative point of view, (like he says) then I guess JD has done his job.
Big money
Did someone forget that there were certain financial incentives that UEFA offered to every team:
1 million for a win
half a million for a draw
a million if we finished 3rd 
2 million if we got to the quarters.
Achieving any of those to me would be an administrative success, it could have been a much needed bonus for the FAI coffers and possibly grassroots facilities etc.  To say the teams stay in Poland was a success, just glosses over the real issues in Irish soccer. Although, at least they had proper training facilities this time around.
Structure
We are moving into another year of kids football and no changes on the horizon.. Another season and still the same aul bullshit. FAI for all they stand for have achieved something, after all we have a fantastic new stadium, we have emerging talents centers all over the country that no longer discriminate against kids playing outside of Dublin and there are some excellent coaches involved with the international junior squads, for both men and women. However, they claim they have been working very closely with schoolboy football and this is a statement I have to question. For all that has been achieved, there are still some MAJOR concerns within the grassroots structure.
More Indo quotes….
Dion Fanning asks, Are the clubs able to nurture young talent?  
JD replies, 'We have an underage age review. We've done an underage review, I'm working closely  with schoolboy's football on that………When asked, about his comments on the first day of his job, about bringing the FAI "back to basics" back the development of  the game around Ireland, he says, 'my weekends are packed with meeting clubs around the country….talking to them about the issues that exist at grassroots level' . 
He goes on to talk about the improvement of clubs facilities, Elite structure and development officers, but for me he has missed the real issue, the issue of competitive leagues, unqualified coaches and the fact that we have zero structure and how we are not teaching the kids to play but to win (something most kids already have). He also goes on to say, 'I'm a believer that there should be less competition and more touches', yet the entire playing structure for kids in this country is completely the opposite and they have done nothing about it. The leagues still have complete power.
He also mentions this "underage committee" whom I have never heard of, but would love to know more about and what their mission and goals are. He talks about, 'working through those principles for change, for further change', what exactly are these principles, have I missed something?
Grassroots is top topic!
On positive front, any mention of grassroots development by JD is always a bonus, because it gives us a chance to question what he is saying and to highlight the real issues that JD and the FAI seem to be forgetting. I can't really question his role as an administrator or CEO as I don't know the ins and outs, but I can question the development of young kids playing football in Ireland, which is no better off then it was 20 years ago.
In fact 20 years ago, kids were still playing on the streets and technically far superior then kids nowadays. Its time a youth football organisation was set up with or without the FAI involvement, an organisation that controls how the game is structured and one that has a huge influence in development of kids in this country. We can't continue to allow the leagues to decide how kids are developed in Ireland. Ideally you would want the FAI on board, after all they are meant to be the ones governing the game. This Organisation can only work with coaches involved, a selection from across Ireland, with a mixture of league reps, teachers, FAI coaches and psychologist etc.
League of Ireland
There needs to be some sort of connection between kids football and the league of Ireland. I don't believe any team in the league of Ireland has a proper academy that feeds into the senior team. We are currently the only country in Europe that has no proper structure between kids football and the professional game. At present we are feeding clubs in England due to this lack of structure in Ireland. I think the u19s league is a positive, but we should be looking at other age groups (U15s, 16s, 17s, 18s, 19s and 21s) as this will help form proper academies at league of Ireland clubs. Another Idea would be to start a Celtic League using the concept that has been so successful with the rugby.
In summary
The fact that the FAI shows no concern for the kids development (6-12s) and seems not to care how the leagues are structuring football in Ireland, really worries me and I have a funny feeling that by the time Brazil 2014 comes around ' O jogo bonito' will not be a chant coming from the Irish supporters…lets hope I'm wrong!
Euros facts: This was the joint worst performance by a competing team in the history of the euros. 
Facebook comments:
comments
404