The English FA making steps…
Oct 27, 12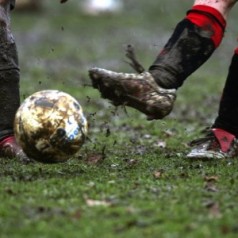 This week the English FA talked about further plans for the grassroots game to come in line with the rest of Europe and while the England, Scotland and Wales continue look to the future, Ireland still sits in darkness with only certain leagues trying to implement change for the benefit of the game. We are yet to hear of any plans the FAI propose to make. After the disastrous Euros finals and gutless start to the WC qualifiers, Ireland continue along as if nothing ever happened and nothing will ever change.
In a recent interview Dion Fanning asks, Are the clubs able to nurture young talent?
JD replies, 'We have an underage age review. We've done an underage review, I'm working closely  with schoolboy's football on that………When asked, about his comments on the first day of his job, about bringing the FAI "back to basics" back the development of  the game around Ireland, he says, 'my weekends are packed with meeting clubs around the country….talking to them about the issues that exist at grassroots level' .  
He went on to speak about the 'underage committee' and the work they do. When I hear the word committee, I straight away think a bunch of old farts sitting around a table talking about the past.
"If you want to kill any idea in the world today, get a committee working on it."
The Football Association
hope plans to revamp grassroots football will revolutionise the future of the game in England. St George's Park, a £105m national football centre, was opened this month to champion the FA's new philosophy about developing more skillful and creative players in this country.
As part of their vision, the FA plan to change how the next generation of footballers is coached, with emphasis on smaller sided games to encourage more skills and enjoyment.
Les Howie, the FA's head of grassroots coaching, is confident the proposals will benefit every level of football as well as helping to find stars of the future.
"This is not about elite and player development, this is about trying to give all children an opportunity to play the appropriate game, boys and girls and get that love of the game," he told Special Report on Sky Sports News.

"Actually if you do that with the right coach and the right support, creating the right environment – which we spend a lot of time discussing on our youth awards – then hopefully that will create the opportunities for the players to come through.

"That's when we will pass them onto professional clubs and continue their education in the game.

"Whether people come through, whether this will help us win the World Cup in the future, there are so many other determining factors in there, but I think it's the right thing to do."
Les Reed, Southampton's executive director of football, believes it is important that steps are taken to improve football at all levels.
He said: "We are looking at ways we can get involved in that to ensure that while there is a player pathway for the best players to come through at elite level, the game itself improves, is more enjoyable for boys and girls who don't get to that level."
Text from Sky Sports News report
Facebook comments:
comments
404